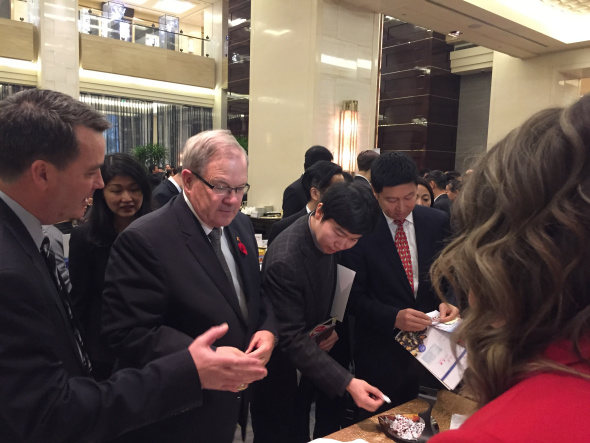 Canadian Minister of Agriculture and Agri-Food, the Honourable Lawrence MacAulay(2L) visits a stand at the export-cafe.(Photo: Ecns.cn/Feng Shuang)
(Ecns) -- Canadian Minister of Agriculture and Agri-Food, the Honourable Lawrence MacAulay, is on a 10-day trade mission in China starting from last week.
In Beijing, MacAulay met with Han Changfu, China's Minister of Agriculture, and Zhi Shuping, Minister of the General Administration and Quarantine.
The two sides discussed agricultural trade issues and cooperation opportunities, and signed a series of MoUs and cooperative agreements regarding the trade of grain and canola oil, food safety control, and farm animal genetic studies.
MacAulay also met with representatives of China's leading retailer Hualian Group and the state-owned grain trader COFCO, confirming the opening of a COFCO office in Winnipeg.
MacAulay said the mission is to further implement the consensus reached during the back-to-back visits by Canadian Prime Minister Justin Trudeau to China and Chinese Premier Li Keqiang to Canada this year.
Heading the largest ever agricultural delegation of more than 100 business representatives, MacAulay first visited Qingdao, where he opened this year's China Fisheries and Sea Food Expo together with Chinese officials.
An agri-food export-cafe was also held in Beijing last Friday to connect Canadian farms with potential Chinese partners.
A business representative talk with a visitor at the Canadian agri-food export-cafe held in Beijing on Novermer 4, 2016. (Photo: Guo Sheng/Provided to Ecns.cn)
Around 50 companies and associations demonstrated a variety of made-in-Canada products, ranging from seafood, beef and fruits to maple syrup, wine, ginseng and health-care supplements.
Most of the agri-food on display was branded as top quality, a result of Canada's clean growing environment and tight quality controls on farm produce.
A business representative presents microwave food products made in Canada. (Photo: Guo Sheng/Provided to Ecns.cn)
To help visitors understand that, an "East Meets West" cooking demo was staged. Two celebrated chefs -- Jackson Wu from the Four Seasons Hotel in Beijing and Marco Ragoni from Grand Hyatt Hotel in Shenzhen -- went back-to-back to prepare six Chinese and Western dishes with Canadian ingredients.
One of the dishes featured Canadian Wagyu strip-loin. The wagyu was provided by Appin Cross Fine Foods Ltd., a startup farm that produces 20 to 30 wagyu cows a month.
Edward Lin, President and CEO of Appin Cross, said they don't want to sacrifice quality for quantity. "We want our cows to mature naturally in a good environment with good feed. We don't want to push them to mature," he said.
Like Appin Cross, Montreal-based maple syrup producer CLG is also eyeing the huge potential of the Chinese market for premium products.
Though currently their maple syrups are only in hotels and high-end cafes in China, CLG hopes to reach out to general customers with cheaper products of the same quality. "Increasing visibility is our priority in China," said Louis Laprise, President and CEO of CLG.
Sample dishes featuring Canadian salmon, quail egg and avocado. (Photo provided to Ecns.cn)
"What we've seen in Qingdao and Beijing suggests that our products are very attractive to Chinese people," said MacAulay, adding that one of the goals of the mission is to promote knowledge of Canadian food here.
China is Canada's second largest trade partner after the United States. Statistics by the Canadian agricultural authority show that bilateral agriculture and food trading has increased by 13 percent to $7.7 billion over the past three years.
To make Canadian agri-products more available for Chinese consumers, Canada's Department of Agriculture and Agri-food signed a strategic agreement with China's leading e-commerce platform JD.com in June 2015.