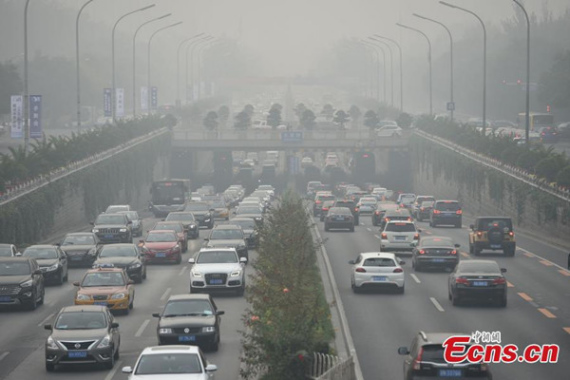 Heavy smog and fog hit Beijing, Oct. 14, 2014. (Photo: China News Service/Jin Shuo)
(ECNS) -- Beijing is expected to enforce revised contingency plans to cope with severely polluted air after the city was shrouded in smog twice in October, Beijing News reported.
At a meeting on Monday, city deputy mayor Zhang Gong urged environmental protection authorities to be prepared for air pollution, warning of the potential rise in pollutant emissions during the heating season.
A digital version of the plan, approved by the municipal government, has been issued to relevant departments outlining requirements over a broad range of topics including work suspension of related companies and construction sites.
Control of high-polluting vehicles on smoggy days is said to be a priority.
Beijing recorded generally improved air quality in the first three quarters as the intensity of PM 2.5 -- airborne particle matter smaller than 2.5 micrometers in diameter and a major indicator of air quality -- dropped by 10.1 percent from a year earlier. But the capital had already issued two alarms for air pollution at the start of the fourth quarter.