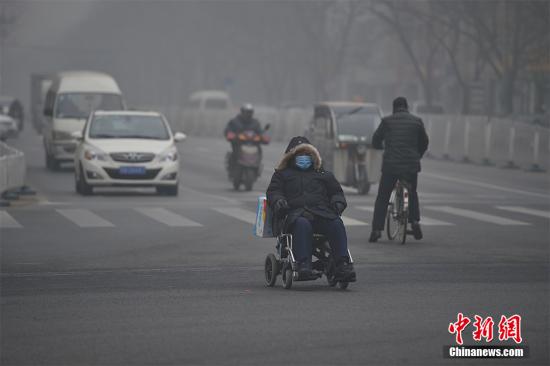 A file photo shows heavy smog in the air. (Photo/Chinanews.com)
(ECNS) -- The air quality in China improved slightly in the first nine months of the year, according to a report on Thursday by the Ministry of Environmental Protection that ranks 74 cities with the worst air pollution.
The Northwestern city of Xi'an, home to the Terracotta Army of Emperor Qin, and Urumqi, capital of Xinjiang Uygur Autonomous Region, entered the top 10 cities with most polluted air in the country.
The city with the worst air quality in the report is Xingtai in Hebei Province, followed by Baoding in Hebei, Jinan in Shandong, Zhengzhou in Henan, Handan, Shijiazhuang, Tangshan and Hengshui in Hebei, Urumqi in Xinjiang and Xi'an in Shaanxi. Six of the 10 cities are in the northern province of Hebei.
The city with the best air quality is Haikou in Hainan Province, followed by Zhoushan in Zhejiang, Huizhou in Guangdong, Xiamen in Fujian, Zhuhai in Guangdong, Lishui in Zhejiang, Shenzhen in Guangdong, Fuzhou in Fujian, Lhasa in Tibet and Zhongshan in Zhejiang.
Luo Yi, head of the environmental monitoring department, said over 80 percent of 338 cities recorded days with good air quality in the first three quarters, a growth of 2.6 percent.
The intensity of PM 2.5, airborne particle matter smaller than 2.5 micrometers in diameter and a major indicator of air quality, dropped by 8.5 percent from a year earlier. The intensity of PM 10 also decreased by 8.2 percent year-on-year.
Some 56.1 percent of days in the capital Beijing registered good air quality, a rise of 5.6 percent, while PM2.5 and PM 10 decreased by 10.1 percent and 14.9 percent year-on-year respectively.
Chai Fahe, a researcher at the Chinese Research Academy of Environmental Sciences, said air quality showed a general tendency toward improvement over the past nine months, although in September major air pollution particles bounced higher due to climate change.