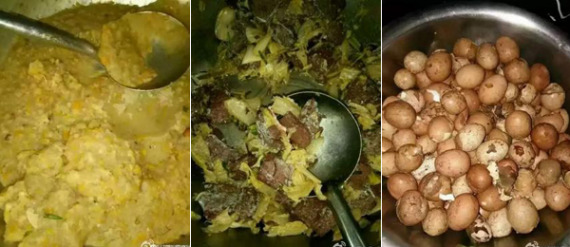 Parents show photos of inferior food. (Photo/epaper.qlwb.com)
(ECNS) -- Hundreds of parents in the eastern Chinese city of Yantai, Shandong Province, demanded justice after a school was suspected of feeding students inferior food used to raise pigs, local media reported.
It said the canteen at Haiyang Yingcai School stored pig and chicken feed, while also providing students with moldy steamed bread and soured vegetables. Parents said fruit served by the school canteen is also rotten.
A statement said the school's meat was provided by a supplier, but the operator quickly disavowed any such fact.
The school also explained that eggs, meat and potatoes that looked rotten in pictures taken by parents were either normal or in the process of treatment.
Local authorities have started an investigation and promised to handle complaints in accordance to the law, vowing a report about samples taken on 22 kinds of food would be available in a week.
The private school houses a kindergarten, an elementary and middle school.