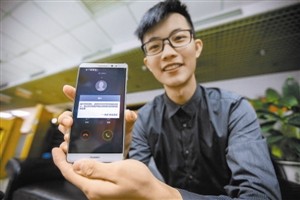 Zeng Zhao shows an app his team has developed. (Photo/jb.sznews.com)
(ECNS) -- A startup company is offering an app that allows users to stay better informed about possible telephone fraud, local media in Shenzhen reported.
The app was developed in two weeks by a team led by Zeng Zhao, an overseas returnee. Zeng said he was shocked to learn about the death of a student named Xu Yuyu in Shandong Province after her tuition fee was swindled in a phone scam.
He subsequently proposed at a morning meeting to develop the app and made it a fortnight later.
When the app is running, it automatically records a stranger's incoming phone calls and then uploads the data to a forum, which showcases tricks and fraud.
Users uncertain about the intention of phone calls can also share the data and let other users offer suggestions.
The mobile phone market already has a number of apps that warn users of suspicious calls. Mobile Manager by China's Internet giant Tencent can show how many people have marked a phone number as fraudulent or used in promoting advertisements.
Zeng said his app features automatic recording once the phone is connected.
Zeng, born during 1990 in Yingde City of Guangdong, earned a master's degree at the University of Wisconsin Stout.
He returned to China in January, then launched his startup in educational software two months later. He said he once encountered phone scams almost daily and was surprised by the widespread leak of his personal information.
Zeng said he wants to cooperate with police to bring swindlers to justice.