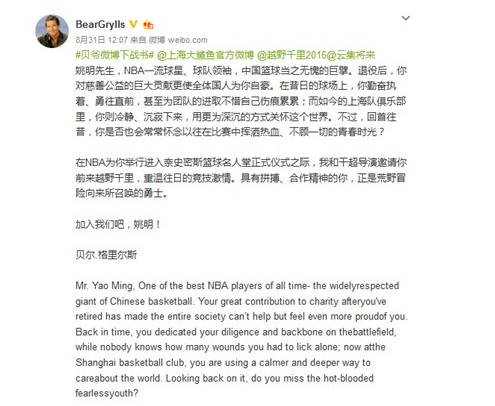 Bear Grylls invites Yao Ming on his Weibo account to take part in his adventure program. (Photo/Screensnap from Weibo)
(ECNS) -- Former NBA star Yao Ming has accepted the invitation of British outdoor-adventure show hero Bear Grylls to join his Running Wild program.
Yao said through the official Weibo account of Shanghai Sharks, a team owned by the legendary player, that he is ready to accept the challenge as human beings are losing the ability to survive in nature in most places around the world.
He added that humans are actually small compared to nature despite the increased pace of environmental transformation.
It's necessary to rediscover the survival instinct so future generations could live in harmony with nature and animals, he noted.
On his official Weibo account, Grylls praised Yao Ming, the widely respected giant of Chinese basketball, and said his contribution to charities has made society even more proud.
He also reminded Yao not to forget the hot-blooded fearlessness of youth, saying he is the exact warrior that wild adventure calls to.