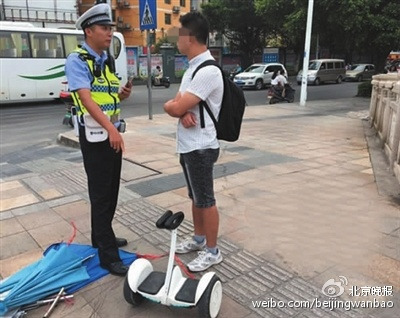 A policeman stops a young self-balancing scooter rider in Beijing. (Photo/Beijing Evening News)
(ECNS) -- Riders of electric scooters and self-balancing scooters will be fined 10 yuan ($1.50) for travelling on roads across the capital city, according to Beijing Traffic Management Bureau.
In addition, traffic police will also demand users to immediately stop driving scooters or Segways in future.
But several police officers said the small fine is far from enough to deter users, who are mostly white-collar workers keen on fashion.
Use of the fancy two-wheel vehicles is against traffic safety rules in Beijing. A test by Beijing Consumer Association also showed these vehicles are fraught with issues including a capacity for high speeds along with questionable brakes and batteries.
The association added that electric scooters and Segways can be dangerous to users and others on public roads since they are mainly controlled by the rider's shifting weight.
Police noted a Segway's speed can reach 30 kilometers per hour, posing a serious threat to the aged and children when they are used in a non-motorized lane.
Traffic police in Shanghai have also staged a campaign to get electric scooters off roads.
Industry insiders warn that China still lacks industry standards for electric scooters, and that the quality of such vehicles sold on the Chinese market can't be guaranteed.