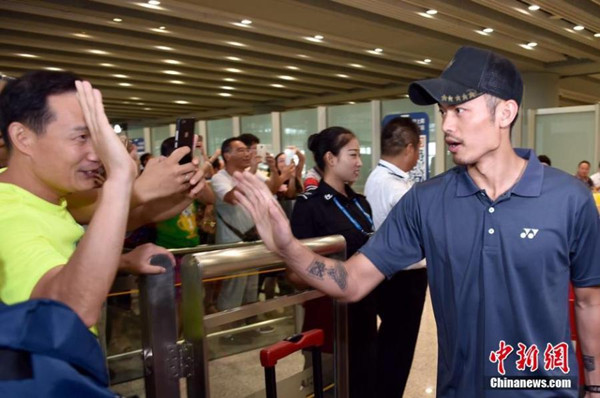 Chinese badminton player Lin Dan is greeted by fans at the Beijing Capital International Airport in Beijing, Aug. 22, 2016. (Photo: China News Service/Jin Shuo)
(ECNS) -- Li Yongbo, head coach of China's badminton team, said China's reserve forces will still take the lead despite the team winning just two gold medals at the Rio Olympics.
China swept all five badminton gold medals at the 2012 London Olympics, but it was a different story in Brazil.
While admitting China no longer enjoys its previous dominance of the sport, the coach said it is still a badminton powerhouse since 12 of its 15 players made it into the top four at Rio.
Li said the majority of the Rio badminton team was comprised of players who were veterans of the London Olympics four years ago and that they suffer from fatigue and injuries.
He added that after many years of winning, players' desire for gold medals was not as strong as before.
"We will strive to work tenaciously and endure hardships, compete with high morale, and show a high sense of responsibility, especially in preparation for the Tokyo Olympics," Li said.
The coach denied that there are succession problems in the badminton team, saying doubts come from those who don't understand the game. He vowed the real abilities of young players would soon become evident at the upcoming World Youth Championships.
People need to retain their high expectations of younger players at the next Olympic Games, he added.