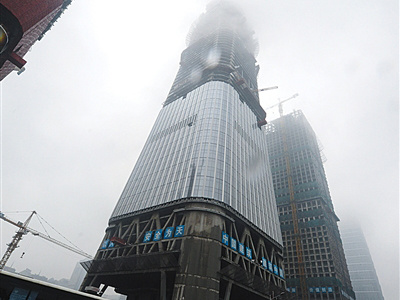 "China Zun", Beijing's new skyline reaches 333 on Aug. 18, 2016. (Photo/ Beijing News)
(ECNS) -- Beijing's newest skyscraper the "China Zun" on Thursday surpassed the previous record holder, the 330-meter-high China World Trade Center Tower 3, the Beijing News reported.
Construction of 70 floors of the building has been completed, reaching 333 meters after 1,116 days. It will steadily rise to 528 meters by July 30, the scheduled end of construction.
The building's gently rising and curving form resembles an ancient Chinese ceremonial vessel called a "zun," which was the inspiration for the tower's name.
Construction started on the building in July 2013. It will have seven floors underground and 108 floors above ground once completed.
Located in Chaoyang District's central business area, the building aims to become Beijing's new landmark structure. When completed, the tower will house office space, hotel accommodation, a high-end shopping mall and offer state-of-the-art facilities.
It also claims to be the world's first skyscraper higher than 500 meters tall and able to withstand a magnitude-8 earthquake.