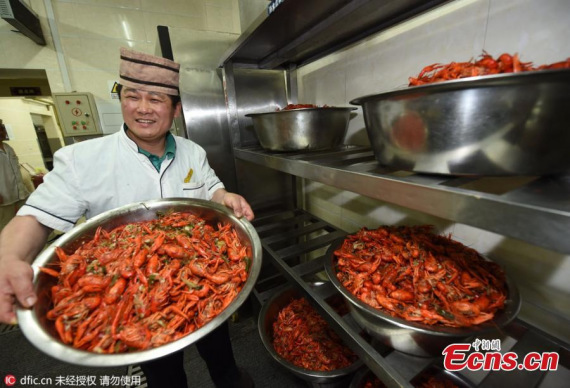 A cook shows off crayfish served up at a canteen in Nanjing University of Aeronautics and Astronautics in Nanjing City, the capital of East China's Jiangsu province.(Photo/IC)
(ECNS) -- The eastern Chinese city of Nanjing has offered the country's first insurance against getting a rare disease from eating crayfish, and promised a maximum reimbursement of 20,000 yuan ($1,500), local media reported.
Wang Shengqi, vice director of the market supervision bureau in Nanjing's Gulou District, said it's unfair for business organizations to be held liable if consumers get rhabdomyolysis, a rare condition in which damaged skeletal striated muscle breaks down rapidly, due to the consumption of crayfish.
Nanjing introduced the food safety liability insurance to protect the interests of both consumers and restauranteurs, said Wang.
Five restaurants in the capital of Jiangsu Province have joined the program by purchasing the insurance for customers, with the premiums ranging from 1,500 yuan to 3,500 yuan a year.
In the case of a consumer developing rhabdomyolysis within 12 hours of eating crayfish at one of the restaurants, the customer can receive between 10,000 and 20,000 yuan in reimbursement from the insurance company.
Crayfish is a popular ingredient in China, but there are often reports about consumers suffering the effects of rhabdomyolysis, which can lead to kidney failure in serious cases. Medical experts the world over have not discovered the exact cause of the disease.