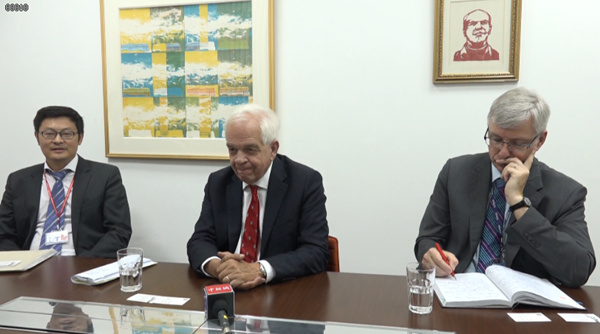 John McCallum(C), Minister of Immigration, Refugees & Citizenship of Canada, Canadian MP Geng Tan(L), and Canadian Ambassador to China Guy Saint-Jacques in an interview with Ecns.cn (Photo/Ecns.cn)
(ECNS) -- A Canadian minister said his country is going to make some changes in the national immigration policy to facilitate more international students to stay.
John McCallum, Minister of Immigration, Refugees & Citizenship of Canada, made the remarks at an interview with Ecns.cn on Tuesday.
The new policy is expected to be rolled out in the fall, according to McCallum, who started his China visit on Aug. 8.
"Canada is an aging country, so we need new young immigrants to support our economy and help make it grow," McCallum said.
It is reforming its system to reduce various barriers, impediments and bureaucratic hold-ups that slow things down, and to get rid of silly rules, the minister added.
The new policy will be good to promote immigrants from China, but also those from all over the world.
McCallum said the one group that he thinks is best to become future Canadians is international students, because they are young, educated, and can speak English or French, and know something about the country.
"We want to make it easier for them to stay in Canada. So we have the system called Express Entry, in which you have a certain number of points to be accepted as an immigrant," McCallum explained.
To attract this group, the Canadian government is going to give more points to international students so that it would be easier for them to stay.
McCallum also mentioned that his visit this time is to have talks with the Chinese government on opening more visa application centers in China.
"The governments of both countries want to expand ties in investment, trade and also in people, so we would like many more Chinese people to come to Canada as students, workers and temporary visitors ... so we need more visa application centers," McCallum said.
Besides, a bio-method system will be introduced where people have their fingerprints taken with their photo pass, which requires them to be physically present, he added.
"Ideally, we'd like 10 more or at least five more in the short run," McCallum said.
At the moment there are four centers in Beijing, Guangzhou, Shanghai, and Chongqing respectively. He hopes five new ones would be set up at Chengdu in Sichuan Province, Jinan in Shandong Province, Shenyang in Liaoning Province, Nanjing in Jiangsu Province and Wuhan in Hubei Province.