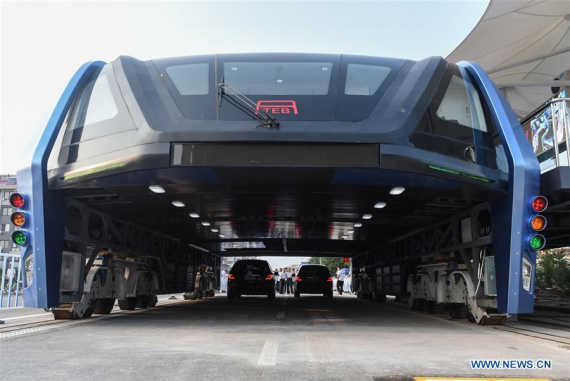 The transit elevated bus TEB-1 is on road test in Qinhuangdao, north China's Hebei Province, Aug. 2, 2016. China's home-made transit elevated bus, TEB-1, conducted a road test running Tuesday. (Xinhua/Luo Xiaoguang)
(ECNS) -- Beijing-based Transit Explore Bus in Qinghuangdao City, Hebei Province, has locked up its futuristic road-straddling electric bus (also known as Batie) after its first test drive generated global media attention and extensive doubts.
In the test, the Transit Elevated Bus (TEB), two meters above the road, ran for 300 meters on a specially constructed track while two lanes for cars passed undisturbed underneath.
The city's top economic planner, the National Development and Reform Commission of Qinhuangdao, said the bus project has not received approval.
At the test site in the city's Beidaihe District, the slogan "Beidaihe TEB Global First Test" is still seen on electronic screens, and people in uniform still guard the test track.
But the huge vehicle has been carefully covered by a giant steel structure 10-meters high, 9-meters wide and 30-meters long with colored steel plates and shade cloth. No photos or viewing is allowed.
Doubts have been hanging over the vehicle. The city's Party committee and all other governmental departments were unaware of the project despite a company announcement on April 27 that said it signed a strategic agreement with Qinhuangdao to conduct tests along a 120 km line.
Several media outlets, including Global Times, reported that the company behind the project is suspected of running a peer-to-peer financing program that promised higher interest rates and faces the danger of running out of cash.