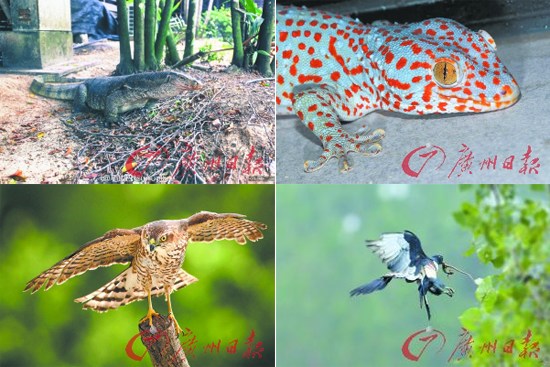 This combo photo shows rare animals and birds that are used by a liquor manufacturer to make alcoholic drinks. (Photo/Guangzhou Daily)
(ECNS) -- A liquor manufacturer has been sentenced to 10 years and six months in prison and fined 50,000 yuan ($7,690) for making alcoholic drinks imbued with endangered rare animals and birds, Guangzhou Daily reported.
The man surnamed Liang opened a company in Zengcheng District of Guangzhou, South China's Guangdong Province. He used wildlife animals under state protection such as the Varanus salvator lizard, Tokay gecko and crow pheasant to make drinks starting in 2012, according to the district court.
Local police seized 24 bottles of liquor with protected wildlife animals inside during an investigation into the company on Jan. 24, 2015. Liang surrendered to police months later.
At his trail, Liang denied charges of selling rare and endangered wildlife animals, saying the liquor belonged to his sister who died in 2014. But the court rejected his argument, citing the evidence insufficient.
Chinese criminal law bans illegal hunting, killing and trading of rare and endangered wildlife animals under national protection.
However, it's an old tradition in China, especially in rural areas, for people to soak plants or animal parts in distilled liquor due to the presumed medical benefits.