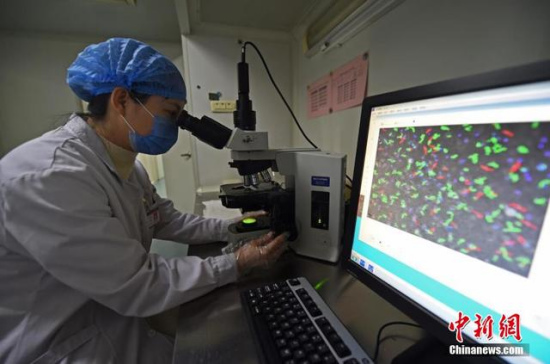 A medical staff tests donated sperm quality. (File photo/Chinanews.com)
(ECNS) -- Chinese sperm banks have been in short supply of donations for years, a situation made worse by a new national policy allowing all Chinese couples to have a second child, the Beijing Times reported on Tuesday.
The Shanghai sperm bank said supplies have been inadequate since 2003, while those in Beijing, Shanxi and Hubei have also issued similar alerts, the paper said.
Song Chunying, director of Shanxi's sperm bank, said a current inventory has supplies at just a little more than 20,000. "Since the sperm bank was set up in 2006, it has never had enough supplies," Song explained.
Due to the influence of traditional ethical values, most Chinese men remain reluctant to donate sperm, so college students make up the majority of donors, according to the paper.
On the other hand, the number of donors whose sperm meets quality standards is small. The Shanxi sperm bank received donations from 800 people in 2015, but only 106 met requirements, the report said.
To encourage more donations, many of the country's sperm banks have rolled out a subsidy policy. In September 2015, the Hubei sperm bank announced a plan on its WeChat account saying that donors would receive an iPhone 6s at a preferential price. Shortly afterwards, the Shanghai sperm bank also released a similar plan on its WeChat account. In Sichuan, sperm donors receive a subsidy worth up to 5,000 yuan ($770) starting this year, and are entitled to have their sperm preserved for their own use for five years.
According to Jiang Hui, a physician at the Peking University Third Hospital, China has only 22 sperm banks, all of which are non-profit, while about 10 to 15 percent of male infertility patients need donated sperm for treatment, resulting in a huge gap between supply and demand.
According to a 2012 white paper on the quality of Chinese men's sperm, some 40 million Chinese men and women suffer infertility, accounting for about 12 to 15 percent of the population, and 20 percent of male infertility is caused by poor sperm quality. In addition, the survey has also found that the quality of Chinese men's sperm is deteriorating at an annual rate of one percent, with drivers and white-collar workers especially vulnerable to problems.
Zhang Zhichao, a physician at the Peking University First Hospital, attributes the rise in male infertility to staying up late, unhealthy lifestyles and habits, overwork and mental pressure.