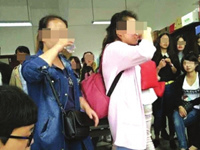 Female students drink strong liquor for scores. (Photo/China National Radio)
(ECNS) -- Dozens of students were forced to drink the strong liquor baijiu in a compulsory test at a school in southwest Chinese city Anshun, China National Radio reported.
"As you're going to do sales jobs after graduation, you must learn to drink baijiu," a teacher surnamed Gu at Anshun Vocational Technical College in Guizhou Province was quoted as telling students.
He teaches students majoring in traditional Chinese medicine pharmaceutics.
The students' scores will be decided on how much baijiu they drink -- 100 scores for a full cup, 90 scores for a half cup, and 60 scores for one sip. Students will be failed if they refuse to have a sip.
Pictures uploaded online showed female students also drinking while others watch.
Normally made from rice and sorghum, baijiu is dramatically different from most Western drinks with a much higher alcohol content of 52 percent.
Drinking baijiu, the world's best-selling liquor by volume, has a long history in China and is viewed as a key part of socialization and business networking.
The college has responded by saying students and teachers are banned from drinking baijiu, according to the report.