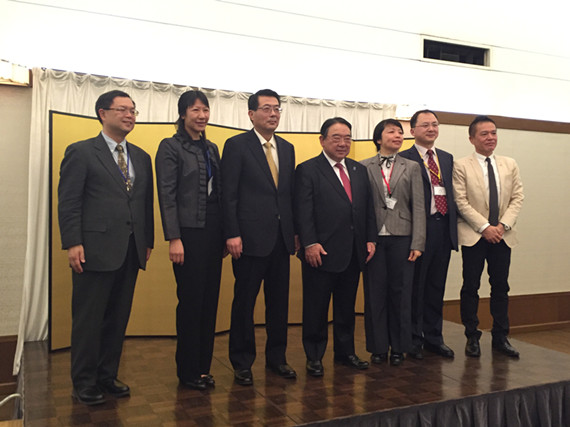 Masato Kitera,Japanese Ambassador to China (4th from L) and Jing Dunquan, chief of the visiting group(3rd from L) attend the seeing-off ceremony held in Beijing on March 12, 2016. (Photo:Ecns.cn/Feng Shuang)
(ECNS) -- A group of more than 100 young Chinese set out for a journey to Japan on Sunday, under a joint initiative by the two countries to boost understandings among their people.
The group, aged no more than 40 on average, covers government employees, business leaders and college students. In the following eight days from March 13, they will visit Tokyo, Kobe and other Japanese cities to take a closer look at Japan's social management and social benefit system. The agenda includes attending seminars on volunteer work, talking to local residents, visiting museums as well as a garbage processing plant and a center for disaster relief.
A seeing-off ceremony was held at the Japanese Embassy in Beijing on the eve of their departure. Addressing the group, Ambassador Masato Kitera wished everyone a pleasant and rewarding trip.
Organized by China's Soong Ching Ling Foundation and the Japan-China Friendship Center in the destination country, the trip is part of the project JENESYS 2.0 (Japan-East Asia Network of Exchange for Students and Youths), which has been advanced by the Japanese government since 2007. The program aims to promote exchanges among young people in Japan and other Asia-Pacific countries and regions.
Jiang Jing, a supervisor at the legal department of China National Offshore Oil Corp (CNOOC), has never been to Japan before. He took this trip as an opportunity to compare and learn. Jiang said the state-owned enterprise cares about social benefits by actively participating in research programs on oceanic protection, as well as setting up charity funds, but "it still needs to learn from global experiences to run their public interest missions more effectively."
Tang Xinwen, a junior at Peking University, was excited about the visit to her dream place. Being fond of traditional Japanese culture, Tang is also a big fan of many Japanese TV dramas, like other girls her age. "Chinese and Japanese culture share a lot in common, which brings us a little closer to each other," Tang said. A Politics, Philosophy and Economy major, Tang is also seeking answers to a list of questions related to her field during the trip.
"Despite the frictions in China-Japan relations, the two countries have never stopped promoting exchanges among their people, especially young people," said Jing Dunquan, Vice-Chairman of the Soong Ching Ling Foundation and chief of the visiting group. He hoped the members can bring back useful knowledge, wonderful stories and make good friends.
China sent the first visiting group to Japan under the JENESYS initiative in 2013. By this March, a total of 5,702 people in 67 groups have taken trips to Japan.