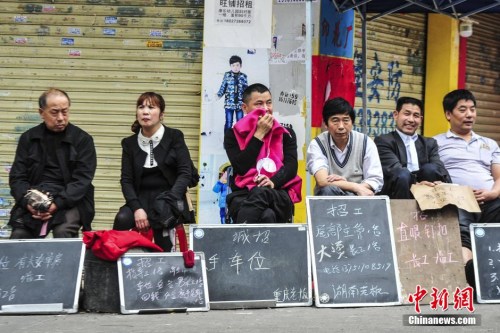 Employers seek job hunters with vacancy boards in Guangzhou, Guangdong Province. (File photo)
(ECNS) -- Labor shortages have again hit traditional manufacturing hubs in eastern and southern Chinese provinces after the end of the Lunar New Year holiday, reflecting higher requirements from employees.
Labor cost rising
In Quanzhou city of Fujian Province, well-known for its flourishing private businesses, companies are finding it harder than in the past to recruit employees, even with better pay packets.
Lu Qiaoling, owner of a company making handicrafts, said it was easy to find workers at a monthly salary of 1,800 yuan ($280) back in 2008 but that today it is difficult with salaries of 4,000 yuan and other benefits including free accommodation.
Lu has been in private business for 18 years and had more than 400 employees during peak times. But in recent years, her company has only hired about 60 people.
"The difficulty in finding workers has hindered our business growth, led to rising costs, so we had to shrink in size," she said.
Lu estimated that costs have doubled over 2008, though the company's profit has only increased by less than 5 percent.
Wang Canmin, owner of a wedding service, shares Lu's concerns. Wang said he has difficulty finding people at a promised salary of 3,000 yuan.
More jobs, less applicants
Labor shortages were also reported in Shanghai and Guangdong Province, which have more well-developed economies compared to many other regions, and rely on migrant workers.
A survey of 424 companies in Guangzhou, capital of Guangdong Province, found the city was in need of 189,100 employees after Spring Festival, according to Guangzhou Human Resources Market Center.
A report released in February shows Zhejiang Province saw a decline in migrant workers during 2015 and that there were more employment offers than job seekers. Younger workers from other provinces are now less likely to seek work in coastal cities.
Younger generation tends to work in hometowns
Increased development in western inland regions, a traditional source of migrant labor, is thought to offer job opportunities closer to home.
Of the 4.3 million people in Neijiang City of Southwest China's Sichuan province, nearly 1.2 million worked in other cities before, but the trend is changing.
Zhang Lu, a woman born in the 1990s in Neijiang, said there are more companies in the city and many of her friends want to work in their hometown.   
Cui Erwei from Nanzhao County in central China's Henan Province made the same decision, although he chose to run an online store selling local products.
Unattractive salaries and higher working pressure elsewhere, along with local development potential are the main reasons Cui chose to stay at home.
The younger generation pays more attention to better compensation packages, and better working and living conditions, while older laborers such as farmers from villages continue to seek employment in big cities. Yet they too are more aware of their rights.
At Maju Brige Commercial Street in Beijing's Tongzhou District, labor service companies said hiring people is becoming harder as everyone is now looking for higher salaries and better conditions.