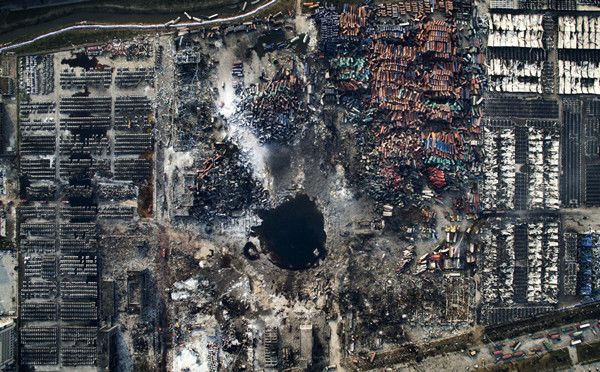 Aerial view of the destruction after the explosion in Tianjin, China. (Photo by Chen Jie/worldpressphoto.org)
(ECNS) -- The Beijing News reporter Chen Jie has been awarded third prize in the General News singles category of the 59th World Press Photo competition for "Tianjin Explosion," an aerial shot portraying the destruction after an explosion in the city.
Chen said the advantage of aerial photography is that shots from above encompass a grand view.
"What we need to do is to deliver information from different angles through multiple channels, namely smart phones, cameras, or even digital aerial cameras," said Chen.
He also said photographers don't need to worry about the device and media, as long as they can deliver effective and truthful messages.
He called for photographers to embrace new techniques to capture rare and precious images.
"Journalists, photographers, and sociologists should also continue to examine new subjects with academic purpose and critical consciousness," said Chen.
The top images were selected from 82,951 photos captured by 5,775 photographers from more than 128 countries.
Top prize went to Warren Richardson for his photo Hope for a New Life, of a man passing a baby through the fence at the Hungarian-Serbian border.
Haze in China, an image of Tianjin captured by another Chinese photographer named Zhang Lei, has won first prize singles in the Contemporary Issues category.