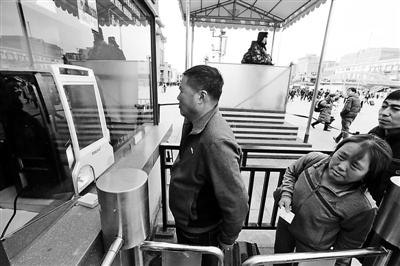 A man tries facial recognition check-in at Beijing Railway Station. (Photo/Beijing Youth Daily)
(ECNS) -- Beijing Railway Station started using facial recognition technology to identify passengers on Thursday, as millions of people travel home for the Spring Festival holiday, Beijing Youth Daily reported.
Passengers with a second-generation identification card and a blue magcard ticket can use the new automated check-in. They must stand in front of a screen to have their picture taken and then wait for approximately three seconds for it to be verified.
To use the system, which is still being tested, passengers are required to remove masks, sunglasses and hats. The system should improve the accuracy of the check-in process, the report said.
The use of face recognition technology is predicted to boom, and large-scale commercialization of the process is occurring, according to reports. China's digital payment service Alipay, run by e-commerce giant Alibaba, has employed the technology for login procedures.