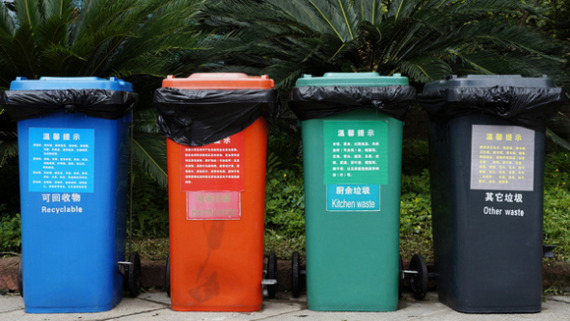 In many cities waste sorting remains nothing but words on a page. (File photo)
(ECNS) -- Fifteen years after China began to pilot waste sorting in eight cities, the result is far from encouraging, and in many places the plan remains nothing but words on a page.
Waste sorting has reappeared as a hot topic, thanks to the introduction of stricter enforcement measures by cities including Hangzhou, a famous tourist attraction in east China's Zhejiang Province. But the same old question remains: will penalties work?
In 2000, Beijing, Shanghai, Nanjing, Hangzhou, Guilin, Guangzhou, Shenzhen and Xiamen became the first batch of cities to pilot waste sorting schemes. In September 2015, Guangzhou, followed by Shanghai and Hangzhou in December, introduced local regulations that promised to fine rule-breakers up to 200 yuan ($30).
After studying various documents, the newspaper has found that of the eight cities, five have launched penalty measures, but efforts stopped short of actual implementation. Following Hangzhou's move, not a single ticket has been issued.
Each year, municipal governments invest heavily in waste sorting. In 2013, Hangzhou put 80 million yuan into its efforts, 35 million of which was used to purchase garbage classification bags and bins. But of the 10,000 tons of household waste Hangzhou generates each day, only 600 tons is being processed.
Classification bags are distributed for free to citizens in Hangzhou and Guangzhou, but most people use them as regular garbage bags.
Some experts suggest that the key to resolving waste sorting is to reduce waste production. Citizens should be left to purchase the bags themselves, so they will have more motivation to sort their garbage, but others argue that low income groups will give up sorting if costs increase.   
Xu Haiyun, a waste sorting expert with the China Urban Construction Design Institute, said that government investment should not be the major driving force behind waste sorting, and cost and return should be taken into consideration as well. A set of regulations alone is not enough to solve the problem.
Other experts echoing Xu's views say laws and regulations are empty words without actual implementation, and the cultivation of civic awareness is also vital. For ordinary citizens, penalties and incentives can go hand-in-hand in the early stages.