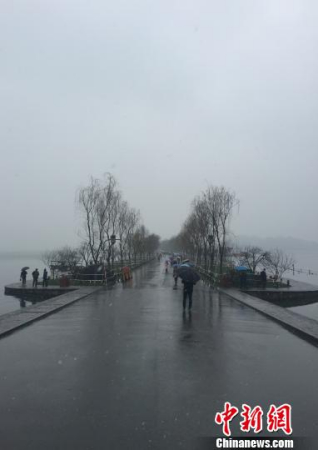 Part of the West Lake in Hangzhou, east China's Zhejiang Province. (File photo/Chinanews.com)
(ECNS) – West Lake in Hangzhou, east China's Zhejiang Province, is likely to be the top tourist destination in China for the upcoming Spring Festival holidays, according to a report jointly released by Amap, a leading navigation service provider in China, and traffic management authorities.
Other destinations on the top 10 list include Poyang Lake in Jiangxi, Qiandao Lake in Zhejiang, the ancient town of Dali in Yunnan, and the Olympic Park in Beijing. Most of the top destinations are located in the south, which is warmer than the north.
Shanghai Hongqiao Railway Station is forecast to see the largest number of passengers during the holidays, followed by Guangzhou South, Shanghai South, Shanghai and Beijing railway stations.
First-tier cities such as Beijing, Shenzhen, Shanghai and Guangzhou are likely to become "ghost cities" due to exodus of workers, while smaller cities, including Xinyang in Henan, Ganzhou in Jiangxi, Huanggang in Hubei and Fuyang in Anhui, will see large crowds of people during the holidays, Amap said.
Amap data for the past two years show that the majority of the top 10 most dangerous roads are located in Zhejiang, Jiangsu and Shandong provinces, with those in Zhejiang accounting for a half, the report said.
The Spring Festival, or Chinese Lunar New Year, is the most important traditional festival for family reunions, during which the nation will see the largest migration of the year.