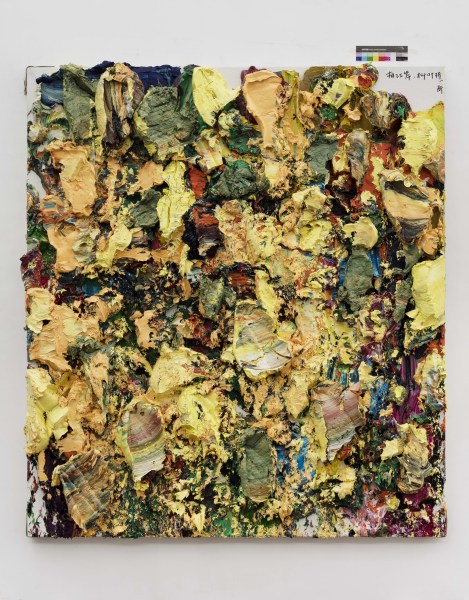 Beating the Riverbank, the Leaves of the Willow Break Off by Zhu Jinshi, 180x160cm (Photo provided by Today Art Museum)
By doing so, the curating committee has recommended 16 representative artists to present their best works in the past decade.
Tan Ping, Vice President of Chinese National Academy of Arts and a renowned artist, brings his recent piece called 'Carrying Out Romance through to the End'. Grey horizontal strokes cover the left side of a 3x4 meter canvas, while its right half is ruptured with fine lines and spills of pink, orange and cyan.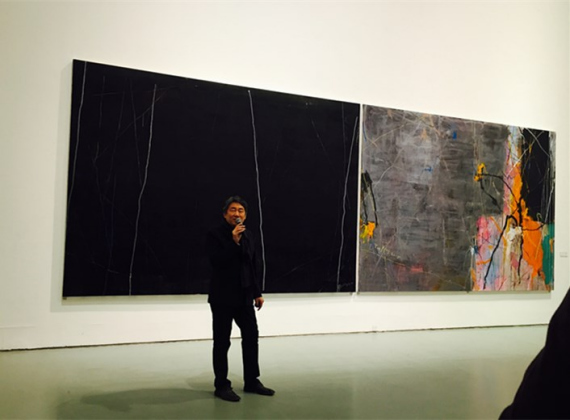 Artist Tan Ping address the opening ceremony of the exhibition in front of his works, including Carrying Out Romance through to the End(R) (Photo:Ecns.cn/Feng Shuang)
Insisting on not offering an official interpretation of this piece, Tan said the key of abstract art lies in its openness and communicative features. "The work captured the emotion and thoughts of the artist the moment he or she was creating them. That's the way they communicate with the rest of the world. But it's both ok whether you get the message or establish your own understandings," Tan explained, encouraging beginners to follow their heart when appreciating abstract art.
Despite the growing influence of abstract art in China, especially in big cities like Beijing and Shanghai, scholars and artists recognize the urgent need to spread related knowledge and nurture a culture of development, both at schools and among the general public.
Visitors appreciate the work by artist Meng Luding at the Research Exhibition of Abstract Art in China. (Photo: Ecns.cn/Feng Shuang)
"Chinese people are still not used to liberalizing their minds when appreciating art works," said Professor Zhu Qingsheng, director of Peking University's Research Center of Visual and Graphic Art, "They tend to seek an unanimous or official explanation that help them 'understand' a painting. The lack of critical thinking is a major cultural barrier for the spread of abstract art, as people often turn their back on what they can't 'understand'."
The exhibition goes along with a series of academic seminars and public lectures. Tan says the event does not mean a conclusion of past development, but brings forward discussions that can guide the future. Artists also hope it can offer people a chance to develop some free thoughts – a key function of modern art.
If you go:
Name: The Research Exhibition of Abstract Art in China
Time: January 24 to March 12, 2016
Address: Today Art Museum, Building 4, Pingod Community, No. 32 Baiziwan Road, Chaoyang District, Beijing.
Venue: 3/F and 4/F exhibition hall of Building No. 1, 1/F and 2/F exhibition hall of Building No. 3
Opening hour: 10am - 6pm, Closed during the Spring Festival. Free Open Days: The First Saturday of Each Month