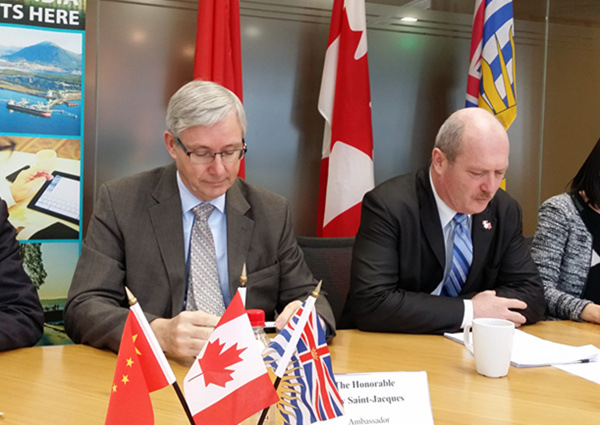 Guy Saint-Jacques, Ambassador of Canada to China (L), and Michael de Jong, Finance Minister of British Columbia, brief the media on BC's issuance of panda bonds on Friday, Jan. 22. (Photo: ECNS.cn/Qian Ruisha)
(ECNS) -- The Canadian province of British Columbia issued a panda bond on January 21, the first by a foreign country in China's interbank bond market.
BC Finance Minister Michael de Jong, Ambassador of Canada to China Guy Saint-Jacques, and representatives of the BC Finance Ministry, Bank of China and HSBC briefed the media in Beijing on Friday.
The three-year-term bond, priced at 2.95 percent, raised 3 billion yuan, or about 665 million Canadian Dollars.
It was twice-oversubscribed by domestic investors in China, including policy banks, commercial banks, fund managers and brokerage firms. Proceeds were immediately reinvested in an offshore RMB-denominated investment with Singapore's United Overseas Bank. Net income on the RMB investment will be used to support and expand the province's trade and investment offices in China.
"The coupon rate is set below 3 percent, not because nobody wants to buy it. There's strong appetite for AAA-rated bonds," de Jong said, adding that the oversubscription owes much to lead underwriters.
BC got approval from the People's Bank of China to issue panda bonds worth 6 billion yuan ($938 million) for terms of up to 10 years on November 27.
"It could have taken years," de Jong said. "We're very pleased to see the level of cooperation by the NAFMI (National Association of Financial Market Institutional Investors) and our lead underwriters."
BC was the first foreign government to sell a "dim sum" bond of 2.5 billion yuan in 2013 and 3 billion yuan in 2014.
A dim sum bond is issued outside of China but denominated in Chinese renminbi, while a panda bond is a renminbi-denominated bond from a non-Chinese issuer sold within mainland China.
The move allows the use of RMB in bilateral trade and more efficient investment for Canadian financial institutions.
"It shows our support for the internationalization of RMB," Saint-Jacques said. "RMB use could save 5 to 6 percent of transaction fees."
Accordingly, bilateral trade in 2015 amounted to 86 billion Canadian dollars.
In 2015, Canada became the first country in the Americas to become an offshore clearing and trading centre for the RMB.
Saint-Jacques said Canada hopes to further advance political and economic ties with China.
"Our Prime Minister Justin Trudeau is likely to attend the G20 summit in Hangzhou in September, and we hope high-level Chinese leaders could visit Canada in 2016," he said.
British Columbia is Canada's fourth largest province by GDP. Michael de Jong was reappointed as Minister of Finance in June 2013.