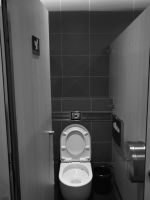 The toilet of Baiyun International Airport. (Photo/National Business Daily)
(ECNS) -- The Baiyun International Airport in Guangzhou, South China's Guangdong Province, has invited media to visit in an attempt to restore its reputation after it was ranked one of the worst airports in Asia.
A survey by the travel website called "The Guide to Sleeping in Airports" has ranked Baiyun Airport as the sixth worst in Asia for 2015.
The airport has continued to frustrate travelers by failing to provide them with any form of entertainment, clean bathrooms, or water fountains, according to GSA's website.
Following the humiliating result, Baiyun Airport rushed to organize media groups on Tuesday to visit its toilets, drink machines, and green belt initiatives, the National Business Daily reported.
The airport has finished renovation work in 17 toilets since the project started last August, a person in charge of airport affairs said.
"We appreciate the understanding and support of passengers during the toilet renovation and we plan to further strengthen the management so we can provide a more comfortable environment," he added.
The airport is still renovating two more toilets and expects the total project will add 170 toilet stalls by its completion.
The website of GSA asks travelers to rate their airport experiences on factors such as airport services and facilities, terminal cleanliness, customer service and comfort in an annual survey.