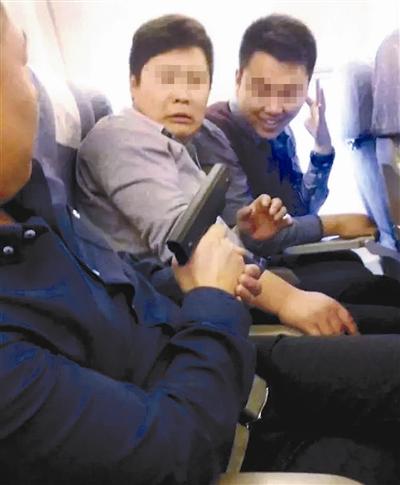 A passenger holds a gun on a plane. (Photo/Beijing Youth Daily)
(ECNS) -- A passenger recently boarded an airplane with a suspected fake handgun at Beijing Capital International Airport, sparking a heated online debate, Beijing Youth Daily reports.
Tip-offs about the incident first surfaced on China's popular social networking app WeChat on January 3, with netizens posting photos of some passengers posing with the gun for selfies on the plane, according to the report. While some netizens suspected it to be a toy or imitation gun, others, including IT industry insiders, said it looked more like a laptop battery.
Police said they have received no report of the incident from either the airline company or passengers involved. And investigations are going on.
China bans all replica guns, including plastic and wooden toy guns, on its airplanes. An airport security worker told the paper it is not difficult for airports to discover replica guns with the help of scanning instruments.
Netizens expressed concern about the possible panic such behavior could have caused among passengers, which may have put the plane's safety at risk.