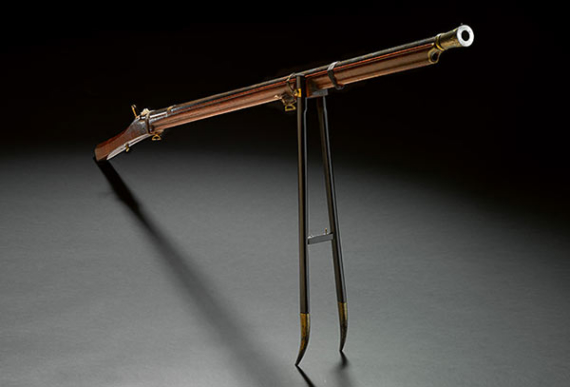 The imperial matchlock musket owned by Emperor Qianlong. (Photo/sothebys.com)
(ECNS) — A musket that belonged to Chinese Emperor Qianlong in the Qing Dynasty (1644-1911) was hammered to an Asian collector for 1.985 million pounds ($2.5 million) at Sotheby's London on Wednesday, according to Beijing-based newspaper The Mirror.
"The buyer showed great interest in the object and bid actively during the auction, offering an unmatched 1.985 million pounds in the end," said the spokesman for Sotheby's London.
The spokesman also said the buyer is a private collector from Asia, but refused to mention name and nationality.
"It marks a very meaningful day for Sotheby's. It is the first time that Sotheby's has auctioned a musket with the Chinese imperial reign mark," it was added.
Robert Bradlow, senior director of Chinese Works of Art at Sotheby's London, said the ancient weapon is one of the most remarkable Chinese treasures that ever came to auction.
"This marvelous piece of art, along with other contemporary Chinese artworks, represents the pinnacle of imperial craftsmanship during Qianlong's reign," Bradlow said.
A cinnabar painted pot from the Jiaqing Emperor of the Qing Dynasty was auctioned for 155,000 pounds.