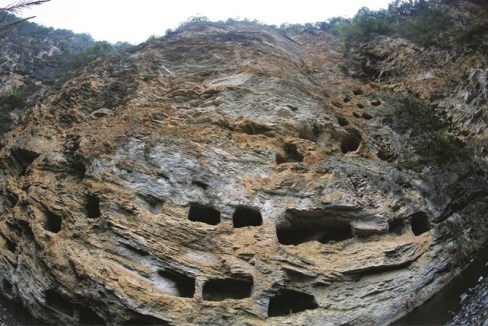 The hanging coffins are inside man-made caves halfway on a cliff in Hubei province, China. (Photo/cnhubei.com)
(ECNS) – A large cluster of hanging coffins have been found in central China's Hubei province. The wood coffins were discovered in man-made caves and between rocks halfway up a cliff.
The 131 hanging coffins, located on a cliff in Yanglinqiao village in Zigui county, date back 1,200 years, according to initial archeological studies.
The coffins, placed inside dense man-made caves dubbed "Cave of the Fairies" by the locals, are about 100 meters high and spread over 50 meters. They belonged to the Bo people, an ethnic group during the Tang Dynasty.
Cliff burial was a funeral style widely practiced in southern China. Ancient people believed that hanging coffins prevented bodies from being taken by beasts, and blessed the souls of the deceased eternally.
The coffins have become important cultural heritages, as well as a mystery. How the heavy coffins, along with many sacrificial objects, were carried up the cliffs remains unknown.
These particular coffins were damaged by villagers in the 1960s and 70s, who burnt the coffins as firewood.
According to Yu Bo, chief of the Zigui Cultural Relics Bureau, the cliffs have been added to the list of cultural heritage for protection, and repairs are underway.