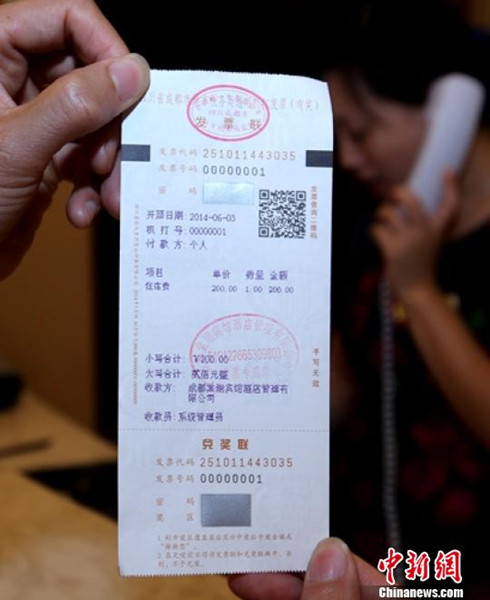 A paper invoice is linked to its electric version with a QR code on the ticket (File photo:China News Service)
(ECNS) - China will extend its electronic invoice system to nationwide coverage in 2016 to better regulate taxation of online businesses, the Economic Information Daily has reported.
The e-invoices will serve as an equivalent to paper ones that provide proof of transactions and taxation.
It's expected to help curb tax evasion by users of C2C platforms, where individuals can easily open virtual shops.
Zhang Bin, a research director at China's Academy of Social Sciences, cited the example of Alibaba's Taobao, which has over 11 million registered e-shop owners. The platform will generate at least 5 billion yuan in sales tax a year.
The e-invoice system has been under trial operation in 22 provincial regions since 2012. Amid China's booming innovation drive, which involves the rise of millions of Internet-based start-ups, taxing these small businesses has become a delicate issue.
China's two leading e-commerce operators Alibaba and JD.com have all voiced support for the policy. A Taobao shopkeeper says the e-invoice system won't be a burden if it doesn't generate extra fees.