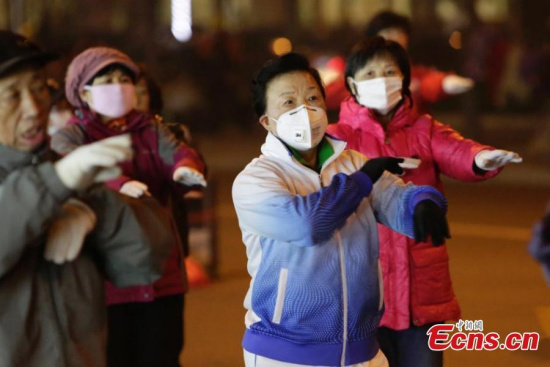 Residents wearing masks dance to rhythms of songs despite smog on a square in Beijing on Monday evening, December 7, 2015. (Photo: China News Service/Li Sihui)
(ECNS) -- Smog-choked Beijing has established a hotline to provide information or receive complaints after it issued the highest-level air pollution alert for the first time, Beijing Morning Post reports.
The city's Health and Family Planning Commission has ordered 421 health organizations to monitor occurrence of respiratory, cardiovascular and cerebrovascular diseases and analyze results. Any abnormal situations should be reported, it was added.
120 and 999 emergency rescue centers have added more staff and vehicles to cope with potentially increasing demand. Hospitals have also been ordered to prepare for an influx of patients.
The Disease Control and Prevention Center of Beijing has warned susceptive groups to avoid crowded spaces with stale air.
The China-Japan Friendship Hospital in Beijing has launched a series of pulmonary function tests, low-dose spiral CT screening (LDCT), inhaled allergens testing and general health checks.
The red alert requires suspension of kindergarten, primary and secondary activities as well as construction work, while it limits the use of cars, affecting more than half of the city's private vehicles through an odd-even license plate system.