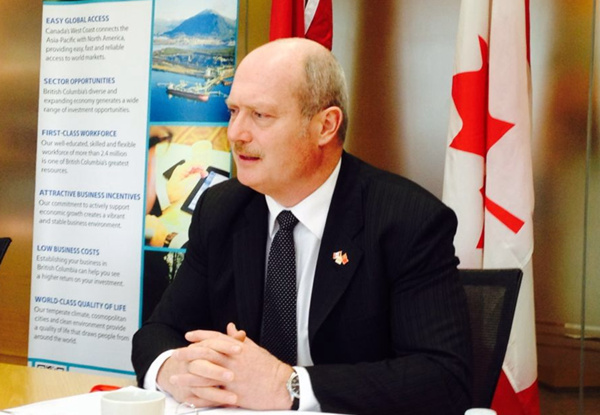 British Columbia Finance Minister Michael de Jong briefs the media in Beijing on Dec. 3, 2015. (Photo: ECNS/Qian Ruisha)
(ECNS) – The Canadian province of British Columbia is approved to issue panda bonds worth 6 billion yuan ($938 million), becoming the first foreign government to tap the China bond market.
The People's Bank of China announced the decision on November 27.
Earlier on, South Korea was reportedly in talks with China and was anticipated to become the first sovereign to issue panda bonds, according to Bloomberg.
"We make it a priority. The approval shows we're financially sound and that we're good partners with the Chinese government," said BC Minister of Finance Michael de Jong in a media briefing in Beijing on Thursday, adding that the west coast of Canada enjoys a strong cultural link with China which evolves into a even stronger financial linkage.
Michael de Jong said the approval gives BC the opportunity to gain access to the world's third largest bond market.
BC also was the first foreign government to sell a "dim sum" bond of 2.5 billion yuan in 2013 and 3 billion yuan in 2014.
A dim sum bond is a bond issued outside of China but denominated in Chinese renminbi, while a panda bond is a renminbi-denominated bond from a non-Chinese issuer sold within mainland China.
The year 2015 is the year many analysts say the "panda" awakens, as China further opens its bond market and pushes for the internationalization of the RMB.
A key reason for the popularity of panda bonds is low yields. The PBoC has cut the benchmark interest rate six times in the past 12 months. Falling interest rates and the depreciation of the yuan has led investors to switch to the onshore market for lower funding costs.
On November 30, the yuan joined the International Monetary Fund's reserve currency basket, which analysts say will spur huge demand for renminbi-denominated bonds.
China's bond-to-GDP ratio is about 50 percent, while in Western countries it is around 200 percent. Developing the bond market will help China's economic reform, and allocate capital to small-and-medium-sized enterprises and emerging industries.
"I think issuing panda bonds is a logical revolution," de Jong said. "China's onshore market is a tremendously attractive capital market untapped by foreign sovereigns."
BC's program includes pre-approved conditions for subsequent bonds to a maximum of 3 billion yuan each and terms of up to 10 years. According to de Jong, both the maturity and the coupon are up to the market to decide. The issuance is likely to take place in early 2016.
"We expect good pricing from investors, as we're AAA rated and Canada has long been a trading hub for China," de Jong said. He added that BC was "dramatically surprised" by both dim sum issuances, and it's optimistic to see that again.
The proceeds will be either invested in BC's infrastructure development or in onshore yuan-denominated products.
In September, the Hong Kong units of HSBC and Bank of China were approved to issue panda ponds worth 1 billion yuan and 10 billion yuan respectively. South Korea is still in talks, and Indonesia and Russia are reported to follow in 2016.
British Columbia is Canada's fourth largest province by GDP. Michael de Jong was reappointed as Minister of Finance in June 2013.