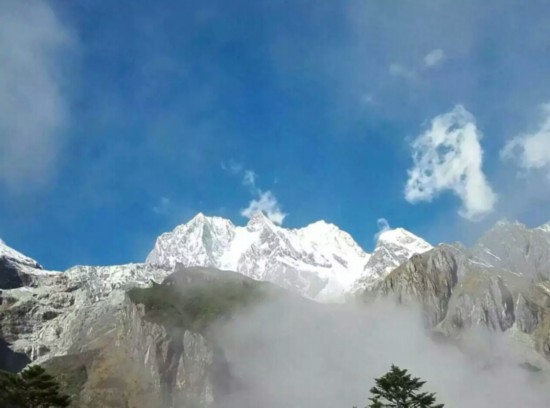 The natural wonder resembles the shape of a wolf on Hailugou Valley, Sichuan province. (Photo/scol.com.cn)
(ECNS) – Pictures of a natural wonder that resembles the shape of a wolf on the snow and ice-shrouded Gongga Mountain in China's Sichuan province have gone viral.
Dubbed "Wolf Totem" by netizens, the view appeared in the Hailuogou Valley on the east side of Gongga Mountain, which at 7,556 meters is the highest low-elevation glacier waterfall in Asia.
Experts say that a combination of the glaciers, sunlight and smog created the natural wonder. It's seeable usually after snow or rain, and the best spot is the No.4 camp site.
"It's a miracle not only for Hailuogou Valley, but for Sichuan and even China," said Hao Kangli, Sichuan Tourism Bureau chief.
Hao is soliciting names for the view on social media.
Hailuogou Valley boasts eight spectacular views, such as "sunrise on glaciers," "red rock beach" and "virgin forest." It's trying to be named a national 5A level scenic spot.
The natural wonder resembles the shape of a wolf on Hailugou Valley, Sichuan province. (Photo/scol.com.cn)