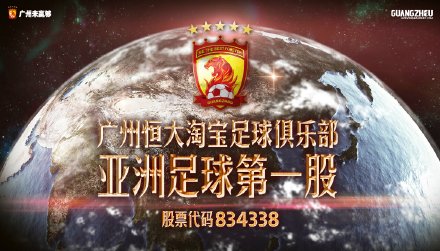 A picture posted on Evergrande Taobao's official microblog says it is the first listed football club in Asia.
(ECNS) -- The Guangzhou Evergrande Taobao Football Club got officially listed Friday on the New Third Board, making it the first Asian football club to rally into the capital market.
The club was founded in March, 2010 by Chinese real estate developer Evergrande, which now share ownership with e-commerce giant Alibaba. Evergrande and Alibaba own 60 percent and 40 percent respectively of the club's 375 million general equities.
The football club has swept up nine championship titles in both the national and Asia Champion League within five years. It now tops the Asian football club rankings, with a world rank of 30.
Despite its performance on field, the club reported a loss of 265 million yuan ($41.7 million) in the first half of this year.
Evergrande says it plans to deepen strategic cooperation with Royal Madrid in branding and promotion, in a bid for profit in 2016. It also aims to make the football club one of the world's top 20 in the next five years.
The New Third Board, officially known as the National Equities Exchange and Quotations, is China's pilot share transfer system for small and medium-sized enterprises.