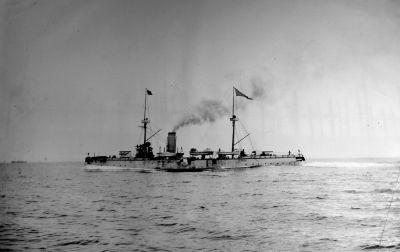 File photo of Zhiyuan.
(ECNS)-- A sunken warship discovered last year in the Yellow Sea has been confirmed as one sunk by the Japanese navy during the first Sino-Japanese War 121 years ago, according to China Central Television (CCTV).
Dubbed "Dandong No. 1," the 50-meter vessel was found 10 nautical miles southwest of Dandong Port, Liaoning Province, during an underwater exploration for port construction last year. The inside of the ship has been badly damaged.
More than 100 relic fragments have been salvaged since archeologists began underwater investigation in August.
The two Chinese characters "Zhiyuan" were identified in the middle of a fragmented round plate after archeologists put the porcelain pieces together.
Zhou Chunshui, head of the archeological team, said the Zhiyuan and its sister vessel Jingyuan were designed and produced by a UK firm, with their tableware specially made.
A plate from the Jingyuan vessel has a similar mark, which confirms that the Dandong No. 1 is the Zhiyuan vessel, he added.
The Zhiyuan was one of four warships in the Beiyang Fleet of the Qing Dynasty imperial marine forces, which were defeated by the Japanese navy in the Battle of the Yellow Sea in 1894. Historic records say that captain Deng Shichang refused to leave the ship, despite it being severely crippled, on fire and sinking.