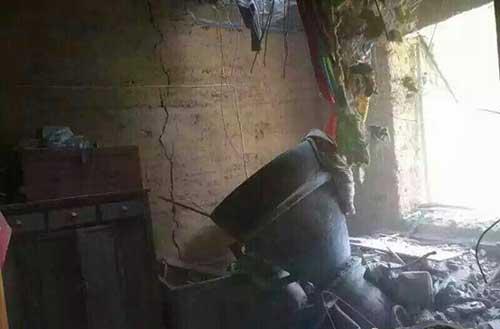 Photo shows the rocket propeller fragment that fell through the house in Ankang, Shaanxi province. (Photo/China Youth Daily Online)
(ECNS) - A large fragment of a used rocket propeller has fallen from the sky, damaging a house in Ankang city, Northwest China's Shaanxi province on Thursday evening, with no reports of injuries as yet.
The rocket propeller fragment fell through the house around 10:40 p.m.. Initially, it was dubbed an "unknown object", with its true identity only later confirmed by local police.
Nearby houses and windows trembled as the fallen pieces sliced through the roof, making a loud noise, according to occupants of the damaged home.
It is yet unclear if the fall caused any injuries or deaths.
A Long March-4C rocket had been launched from the province's Taiyuan Satellite Launch Center at around 10:31 p.m. on Thursday to send China's Yaogan-27 remote sensing satellite into space. It is yet to be confirmed whether the two events are correlated.
This is not the first time rocket fragments have damaged a residential dwelling, while residents are legally entitled to government compensation in case of such an event.
Yu Menglun, an academic at the Chinese Academy of Sciences, says China prefers to launch rockets in areas accommodating few residents, usually extending for 30 km in length and 50 to 70 km in width. The government should provide compensation if there is any damage, it was added.
Meanwhile, China is developing "recyclable" rockets to eradicate the problem of fragment fall.