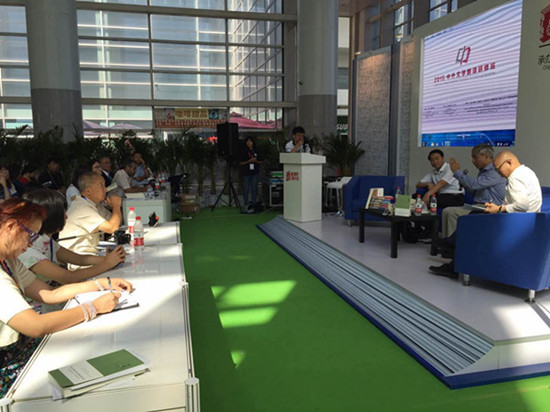 The 2015 Sino-foreign literature translation workshop is held at the Asian Hotel in Beijing from Aug. 25 to 29. Dozens of renowned translators, publishers, scholars and writers from around the world attend the seminars. (Photo courtesy of the Ministry of Culture)
(ECNS) – China has invited dozens of renowned Sino-foreign literature translators, publishers, scholars and writers to a workshop at the Asian Hotel in Beijing from Aug. 25 to 29.
The workshop, jointly hosted by the Ministry of Culture and the China Writers Association, offers a platform to facilitate the promotion of Chinese culture to a global audience, according to Ding Wei, vice minister of the Ministry of Culture.
Chinese literature has been gaining increasing exposure on the world stage since Chinese writer Mo Yan won the Nobel Prize in Literature in 2012. Just recently on August 23, Chinese sci-fi writer Liu Cixin was given the 2015 Hugo Award for Best Novel for his "The Three-Body Problem."
"Chinese literature enjoys a rich and long history, and is drawing increasing attention from around the world," Ding said, adding that he hopes the attendees could help Chinese literature go global with more quality translations.
The workshop is divided into about 10 panels on introductions of Chinese modern and contemporary literature, Chinese language and styles, and the status quo of Sino-foreign literature translation. It offers an opportunity to exchange views, expertise, and the best practices of Chinese literary translation for writers and translators from the United States, India, Egypt, Brazil, Russia, etc.
Egyptian translator Ahmed Zarif said translation works of contemporary Chinese literature act as windows for people in Arabian countries to learn about the development of modern China, and help bond people of two continents closely together.
Priyadarsi Mukherji, translator and professor at Jawaharlal Nehru University in New Delhi, India, said Chinese literature translations serve as a dialog between Chinese and Indian people.
The workshop is held along with the 2015 Beijing International Book Fair, allowing the attendees to talk with Chinese authors and poets, such as Zhou Daxin, Li Dian and Ge Fei.