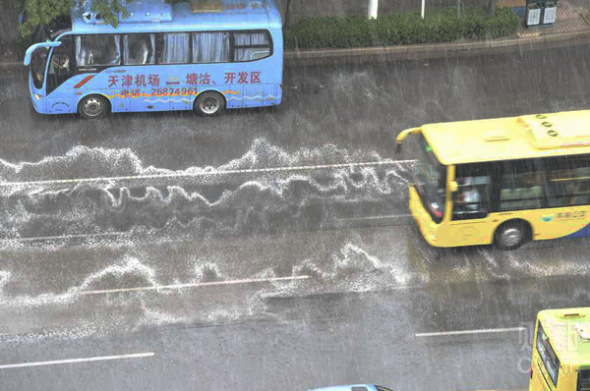 Foams are seen on the ground after it rains in Tianjin, Aug. 18, 2015. (Photo/caixin.com)
(ECNS) -- Dangerous powder blown from the massive warehouse explosions in Tianjin may still be present in some houses near the blast site, according to Bao Jingling, chief engineer at the Tianjin Environmental Protection Bureau. [Special coverage]
Bao said at a press conference that paramilitary soldiers had searched areas within the radius of one kilometer, two kilometers, and three kilometers around the blast site and that they had some difficulty removing some of the powders they had found.
Some chemical powders may have entered into buildings that are near to the blasts and the remains may not have finished reacting, it was added.
The engineer is advising residents who go back to their damaged homes looking for items to be careful of powders and to not throw water on them.
"It's better to ask professionals to collect and then verify the substance......take away your items carefully and don't disturb the anything on the ground," Bao explained.
Explosions ripped through a warehouse storing hundreds of tons of toxic chemicals last Wednesday night. The death toll has risen to 114, with 692 people hospitalized and 57 still unaccounted for.