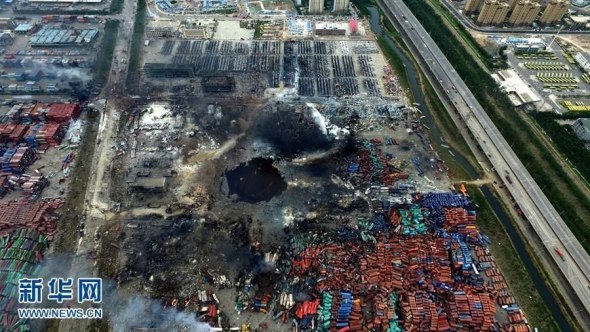 An aerial photograph taken on Aug 16, 2015 shows a huge hole at the center of the site of a series of explosions in North China's Tianjin municipality. (Photo
(ECNS) -- There is an alarmingly high level of cyanide remaining in the surface water at the site of the Tianjin blasts that killed 114, according to Tianjin's chief environmental engineer.[Special coverage]
City authorities set up multiple environment monitoring posts on Sunday, including 17 for air, six for sewage, four for water and another four for sea water, according to Bao Jingling, chief engineer at the Tianjin Environmental Protection Bureau. Bao confirmed the details at the seventh press conference about the blast, held on Monday morning.
Tianjin has also set up 27 additional water monitoring posts specially designed to pick up on cyanide, which has been detected by 17 of the monitors thus far. Three of the 17 have recorded alarmingly high readings, exceeding the limit by 27.4 times, 4.37 times and 0.96 times, respectively. All three readings were taken within the "alert zone" around the center of the blast, where the surface water on site is also heavily polluted.
According to five air-monitoring devices, the air quality on Sunday ranged between good (first level) and lightly polluted (third level). No new air pollution had been detected by seven portable monitors outside the "alert zone".
One monitor has detected over-the-limit hydrogen cyanide but there were no sensitive targets or populations around.