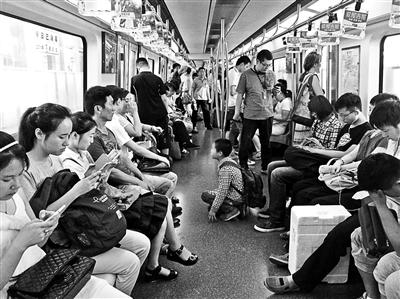 A child begs on a Beijing subway train during the summer vacation. (Photo/Beijing Youth Daily)
(ECNS) - Beijing subway riders in recent months may have noticed an increase in child beggars. In the summer holidays, some parents from underdeveloped regions have again brought their children to the capital city to earn next year's tuition fees through begging.
A source from Rail Traffic Law Enforcement says that since July, more than 40 beggars have been punished and more than 250 individuals and groups have been persuaded to relocate. The majority came from Minxian county of Northwest China's Gansu province, the source says.
Seasonal begging
Liu Ying (an assumed name), 14, has come to Beijing with her mother and 10-year-old brother for the third consecutive summer. She and her brother's regular begging route is the No.10 metro line.
They leave home at seven or eight in the morning and return by four or five. One day's begging earns them between 30 and 80 yuan.
Last year, Liu was taken into police custody, but because she was underage, the police could do nothing but release her with a warning.
Liu is in her first year at a junior middle school in Minxian, and her brother will be a fourth grader starting this autumn semester.