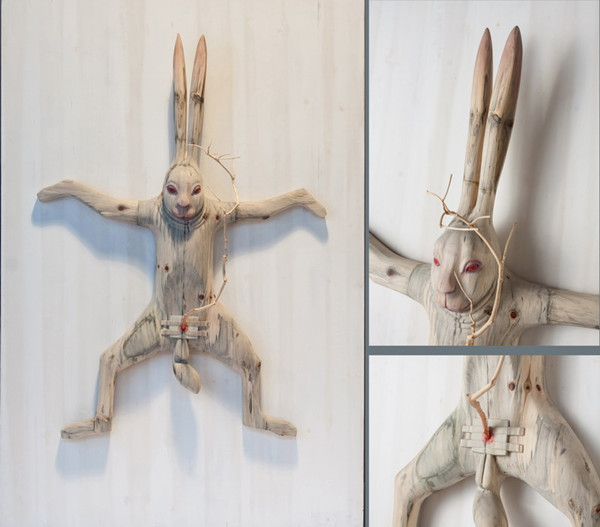 By Chen Wencai. (Photo courtesy of the Today Art Museum)
(ECNS) – The Today Art Museum Exhibition for Nominated Students from Art Academies gave out 14 awards to 23 winners to recognize college artists in domestic and overseas art schools.
A special exhibition – "Ten Years: 2015 Caissa Rising Artists: the Today Art Museum Exhibition for Nominated Students from Art Academies" is also held to mark the 10th anniversary of the award.
Divided into two sections, "Past" and "Present," the exhibition includes works of those artists who established their names at the past Nomination Exhibitions, and works of young artists who have never exhibited at the Nomination Exhibition before.
The most important award – Special Award is given to Xu Xiaoding, and the winner of 10 Years Retrospective Special Award is Yu Ying.
Yu won the Yang Feiyun Award in 2009, an award named after oil painting artist Yang Feiyun, when he was an undergraduate in fine arts at Tsinghua University. Six years after, Yu continues his passion as an artist and has just become a new father.
"The award in 2009 helped me to be more confident at myself," Yu said at an interview before the award giving ceremony. "I have more works and exhibitions at other museums. It all started from there."
With the help of the award, young artists are able to win attention from the communities, as the exhibition is curated by renowned Chinese artists and art critics such as Xu Lei, Wang Gongxin and Wu Yi.
"It creates an opportunity for us to continuously support young artists, provide a stage to present themselves and thereby boost the development of art in China," said Director Gao Peng of Today Museum of Art.
The award was first launched in 2006 as the first public art award dedicated to the community of college students by a non-profit private art museum. The 10th anniversary exhibition will last until August 13.
By Du Hui. (Photo courtesy of the Today Art Museum)
IF YOU GO:
Date: July 18 - August 13, 2015
Location: Building No. 2-3, Today Art Museum
Address: Pingod community, No. 32 Baiziwan Rd., Chaoyang District, Beijing
Tel: 8610-58760600
Website: www.todayartmuseum.com