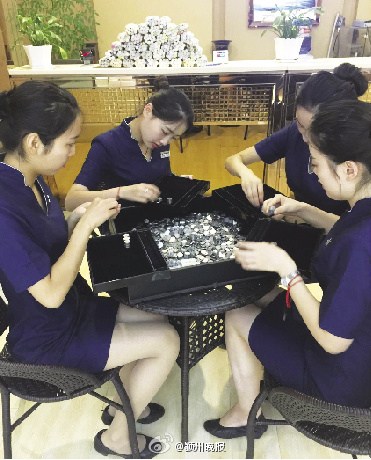 Jewelry store staff in Anhui province calculate coins afforded by a young man in Fuyang city. (Photo/Chinanews.com)
(ECNS) -- A young man in Fuyang city, Anhui province has used approximately 150 kilograms of coins on a diamond ring to propose to his sweetheart, Yingzhou Evening News reports.
Liangliang, 30, has known the girl for 20 years. He promised to save money to marry her one day when he was still a child.
On Saturday, two decades on, he showed up at a jewelry store in Fuyang city with huge sacks of coins to purchase a diamond ring to fulfill his childhood promise.
Liangliang used a tricycle to transport all his money, which added up to 12,000 yuan ($1,933) in total, to the store.
Staff at the jewelry store spent hours calculating the total value of coins and said they would preserve the money in their museum to honor the young couple's romance.
After retrieving the ring on Tuesday, the man is now busy organizing a proposal ceremony for his fiancée, who was hugely touched and broke into tears at the gesture.