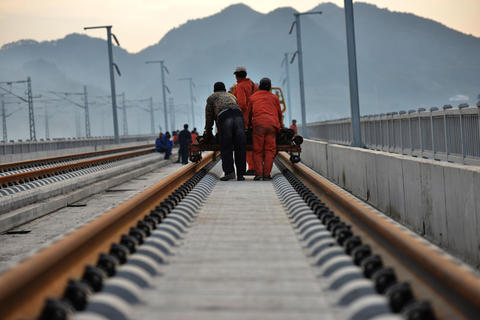 A latest quality inspection conducted by China Railway Corp. shows that only four of a total of 14 high friction coefficient composition brake pads for freight trains have passed check. (Photo/www.caixin.com)
(ECNS) -- China Railway Corp (CRC), the state-owned railway company, said only four of a total of 14 products passed a fourth quality check, the latest conducted this year, meaning the pass rate was just 28.6 percent, the lowest ever, Caixin.com reports.
Accordingly, the products under scrutiny were high friction coefficient composition brake pads for freight trains, while those unqualified mainly failed to meet relevant friction and wear performance standards.
An anonymous source from China Railway Rolling Stock Corp told Caixin that the brake pads are a key component of the train's braking system, and that if their friction and wear performance do not meet the standard, the train's braking distance will be dangerously affected, especially in case of an emergency.
The inferior products had been made by 10 enterprises that include Beijing Railway Bureau, Zhengzhou Railway Bureau and Aviation Industry Corp of China, China Railway says, adding that it has asked these enterprises to look into the problem and improve on it.
The enterprises can apply for another check of their products within six months, and if they fail to do so within the designated timeframe, their products would be deemed unqualified, China Railway explained.
China Railway is also warning all units under it against buying these products prior to a reexamination. For any products already in use or circulation, a safety assessment is a must, and enterprises can also demand compensation or ask the manufacturer to recall the products, it was added.