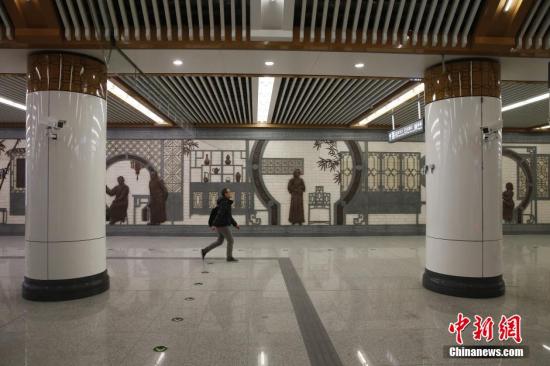 The Daguanying Station of Beijing's Subway Line 7 starts operation on Dec. 28, 2014. (File photo/Chinanews.com)
(ECNS) -- It costs more than 1 billion yuan (about $161 million) to build one kilometer of subway in Beijing, according to the National Development and Reform Commission (NDRC).
The State Council currently allows 39 cities throughout the country to construct their own subway systems. The number is expected to grow to around 50 by 2020, the commission revealed on Tuesday.
Urban rail transit not only helps with urban space expansion, but also boosts economic development, said Li Guoyong, inspector of the NDRC's basic industries department.
Such systems, especially subways, are usually expensive and require large amounts of funds. The cost to build one kilometer of subway has gradually risen from 500 million to 700 million, 800 million and even 1 billion in Beijing, according to Li. For example, Line 16 costs 1.2 billion yuan per kilometer to construct.
Urban rail transit plays a significant role in supporting and leading the expansion of urban infrastructure, with such growth referred to as Transit Oriented Development (TOD). It helps spread the urban population across a metropolitan area, including to satellite cities, it was added.
Now that multiple Chinese cities, including Dongguan and Foshan, are developing in groups instead of individually, the TOD mode could be well-utilized to lead the expansion of urban space.
Between 2011 and 2015, China has been constructing 300 to 400 kilometers of subways per year on average, raising between 200 billion and 300 billion yuan in annual funding. It is expected that 300 billion in funding will be raised by the end of 2015. As a result, urban rail transit systems play a significant role in boosting economic development.