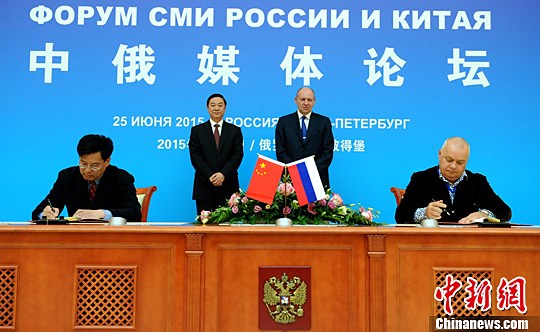 China News Service (CNS) President Zhang Xinxin (L, 1st)and Dmitry Kiselev(R, 1st), head of the Russia Today international news agency, sign a cooperation deal on the sidelines of the China-Russia Media Forum in St Petersburg on Thursday. (Photo/China News Service)
China News Service (CNS) President Zhang Xinxin (L, fornt) and Dmitry Kiselev (R, front), head of the Russia Today international news agency, sign a cooperation deal on the sidelines of the China-Russia Media Forum in St Petersburg on Thursday. (Photo/China News Service)
(ECNS) – China News Service (CNS) President Zhang Xinxin and Dmitry Kiselev, head of the Russia Today international news agency, signed a cooperation deal on the sidelines of the China-Russia Media Forum in St. Petersburg on Thursday.
According to the agreement, the two sides will cooperate in news exchange, joint interviews and co-organization of news events.
CNS is one of the two news agencies on the Chinese mainland. Through text, photography, features, websites, periodicals, newswires and video, CNS provides news to overseas Chinese people across the world, including Hong Kong, Macao and Taiwan. Its user network covers most of the Chinese-language media in the world.
The state-run Russia Today news agency is the result of a merger and restructure of the former RIA Novosti news agency and The Voice of Russia, and is one of the largest media conglomerates in Russia. With the task of publicizing Russia's state policies and social life, it offers multilingual news services to the world.
Liu Qibao, head of the Publicity Department of the Central Committee of the Communist Party of China, and Alexi Gromov, first deputy head of the Presidential Administration of Russia, witnessed signings of a series of cooperation deals which also include other Chinese and Russian media organizations.
China Radio International, the China Foreign Languages Publishing Administration, and the China National Publications Import & Export (Group) Corps all signed deals with their Russian counterparts to share resources.
The recent meeting between Chinese President Xi Jinping and his Russian counterpart Vladimir Putin, along with a joint announcement that 2016-2017 will be a media exchange year, has drawn wide attention.
Experts say the forum in St Petersburg signals that cooperation between Chinese and Russian media organizations will reach a new peak.