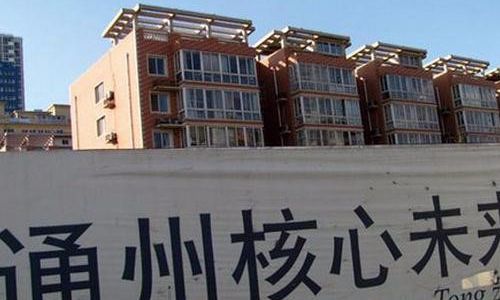 A real estate project in Tongzhou district, Beijing. (File photo)
(ECNS) – Speculation that the Beijing municipal government would move to Lucheng town in Tongzhou district has given a huge boost to the town's housing market, the Economic Information Daily reported on Tuesday.
The Beijing authority has remained silent on the matter, fanning rumors about the relocation. The newspaper said the most accurate version is that Beijing is researching a possible shift of the government's administrative functions to the Tongzhou sub-center.
Accompanying the question of "to move or not to move" is "to buy or not to buy." A property agent said that Lucheng's housing prices rose nearly 5,000 yuan ($805) per square meter within a month.
However, Lucheng's available housing sources are limited. To make matters worse, some owners have canceled agreements to sell properties after hearing rumors that the municipality might move there, a real estate agent surnamed Chao told the paper. "I don't know what to say to so many customers who want to buy homes," she said.
At the sales center of a housing project, a salesperson said that the authority's silence has sent a signal to investors. "Otherwise, the government would definitely deny (the rumors)."
The salesperson asserted that the municipality would move to Haojiafu in the town, and that well-known primary and middle schools would set up branches there. The price of the housing project will jump to 35,000 yuan per square meter next month from the current 31,000 yuan, it was added.
However, experts say that even if speculation on the municipality's relocation proves true, it will not affect Tongzhou's housing property market much.
Last month, Tongzhou's new housing prices hit 23,420 yuan per square meter, an increase of 1.6 percent over April, far less than the city's average of 6.7 percent. The district's second-hand housing prices fell 2.8 percent from April to 21,289 yuan per square meter, according to the report.