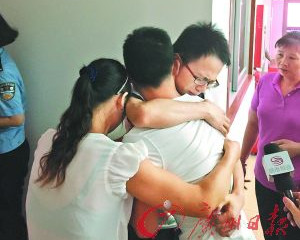 The family reunite in Shenzhen on Thursday, June 18, 2015. (Photo/Guangzhou Daily)
(ECNS) -- Facial recognition technology has helped a heart-broken Chinese couple reunite with their missing son in Shenzhen, Guangdong province, after 20 years of separation.
The couple lost one of their twin sons Wan Shuangjian and elder daughter Wan Yan in 1995 in Shenzhen when the husband took a nap, Guangzhou Daily reported on Friday.
In the past two decades, they have never stopped looking for their son, also visiting Guangxi Zhuang autonomous region in the process.
Each effort ended in vain until the other son Wan Shuanglong handed his photo to police in charge of investigating human trafficking in 2008.
Police in Heyuan city of Guangdong used facial recognition technology to identify a man who looked much like Wan Shuanglong. The man, surnamed Luo, was also a policeman in Heyuan city.
A following DNA test proved that Wang and Luo were related by blood and were actually twins.
The couple met their missing son on Thursday afternoon after waiting for 20 years, though they had no information about their missing daughter.
Police have since detained a man suspected of initially trafficking the daughter and son. In the surrounding area where both had gone missing, a total of seven children have disappeared from 1995 to 2000.