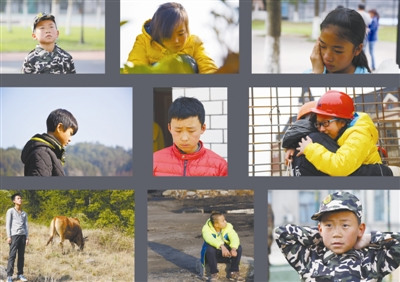 Left-behind children behind the camera. (File photo/Liaoning TV)
(ECNS) -- More than 15 percent of China's 61 million left-behind children are separated from their parents for as long as a year, and consequently suffer from various degrees of depression and anxiety, according to a report released on Thursday.
The white paper "Mental Condition of China's Left-behind Children 2015" surveyed more than 2,000 children living in rural areas in six provinces.
The survey, launched by the NGO Shangxuelushang (or "On the Way to School") dedicated to caring for children's mental health, found that 15.1 percent of children were unable to see their parents for a whole year, even during important events such as Spring Festival, otherwise known as Chinese New Year.
The white paper also says that 4.3 percent of the surveyed children hadn't receive a single phone call from their parents in a year. About 8.9 million children had talked with their parents on the phone once or twice a year, and nearly 15.2 million children had received phone calls once every three months.
The report says the children suffered from a dramatic increase in depression and anxiety if their parents failed to be with them at least once every three months. The children also felt more relaxed if they had contact with their parents once or twice a week.
The white paper used indicators of depression (about their current situations) and confusion (about future uncertainties) to evaluate the children's psychological health. The report was compiled by Li Yifei, a professor of psychology at Beijing Normal University.
Emotional well-being shows clear regional variations, with children in the northwest regions suffering the most, and those in eastern coastal areas the least.
Girls were found to be under more pressure than boys, as they mature earlier and become more sensitive to their situations, according to the report.
The report suggests a number of ways to help improve children's psychological conditions, such as reading, playing, doing appropriate amounts of homework, and being accompanied by their mothers.
Mothers are urged to spend more time with their children and let the fathers work away from home should the need arise.