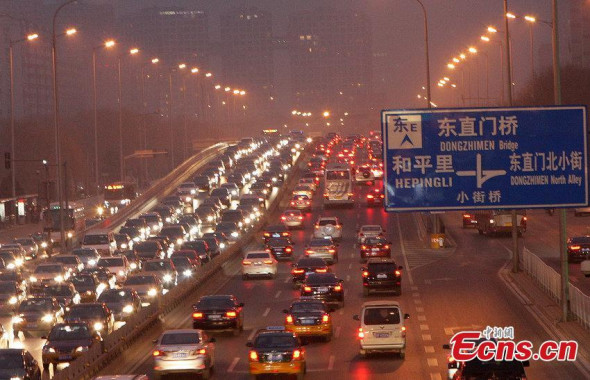 A general view of heavy traffic on roads near China World Towers, located in the heart of Beijing's Central Business District, Jan 4, 2015. [File photo/CFP]
(ECNS) -- Despite growing concerns over environmental protection, many Chinese are refusing to change their means of transportation, fueling a dramatic rise in car usage, according to surveys.
In 2014, 55 percent of people were worried about environmental pollution and traffic jams caused by cars, an increase from 48 percent in 2010. However, 33 percent of those interviewed said they travelled by private car at least once a week, which was a significant rise from eight percent in 2010.
It seems Chinese refuse to change how they travel despite their own environmental concerns regarding vehicle usage, reported China Radio International on Thursday.
The survey, conducted by CTR, a market research company affiliated to China Central Television (CCTV), is ongoing, with follow-up data collected over the years. The sample includes over 90,000 people from 60 cities across China.
Although China's environment has obviously deteriorated, the proportion of residents willing to "change their lifestyle to protect the environment" has remained almost constant between 2010 and 2014. When purchasing cars, for example, consumers pay much more attention to security, comfort and operability than emission intensity.
Chinese have evidently taken action against pollution. Air purifiers, for example, have become the country's most popular mini household appliance.
CTR said the inaction of Chinese consumers is perhaps due to a lack of relevant infrastructure and other services to sufficiently practice environmental protection. In addition, environmentally friendly products on the market are much more expensive compared to regular ones while failing to play a regular part in daily life.