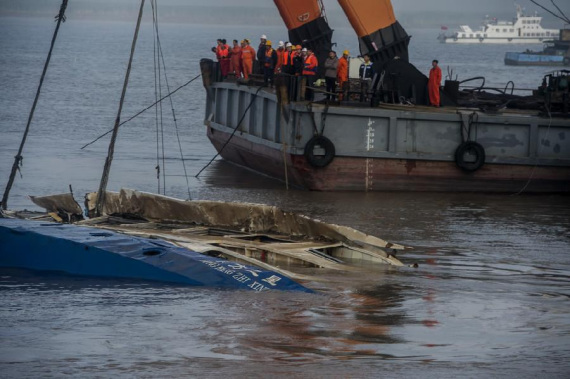 The cruise ship "Eastern Star" emerges from water. (Photo/Xinhua)
(ECNS) - Wang Guoshun, 83, the oldest passenger on the Chinese cruise ship that capsized on the Yangtze River, had a passion for travel and had done so extensively, according to his son Wang Youlong.[Special coverage]
The elder Wang was born in 1932 and lived in the town of Gongdao in Yangzhou city, East China's Jiangsu province.
After retiring from a machinery factory, Wang made long-distance journeys every year and also enjoyed daily morning exercise, according to his son.
He had called home to say he was safe and having fun on the morning of June 1, but did not call the next day, the son added.
Wang was traveling with his friend Jin Fengming, born in 1938 and also from Gongdao, on the ship Eastern Star. Since the vessel sank on Monday night, the family have not heard from Wang.
Wang's daughter-in-law Liang Fulan said he was in robust health and often swam together with Jin as if they were youngsters.
The two friends had traveled to Shanghai, Beijing, Hong Kong, Taiwan and many other places over the past decade, according to Liang, who prayed for their safe return.
"He was such a nice person. Everyone, young or old, liked him," Wang's son said.
With hopes fading of finding survivors, rescuers worked through the night to right the overturned ship. The death toll has risen to 82, yet the ship was carrying more than 450 passengers and only 14 survivors have been found.