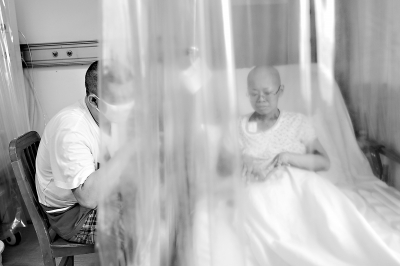 Chen Lin (pseudonym), is in Wuhan of Hubei province. (Photo/Yangtz River Daily)
(ECNS) -- After 11 years in frozen storage, a supply of umbilical cord blood has saved a woman's life.
The blood was donated during May 2004 in Chengdu, capital of Sichuan province. After being held for 11 years at a temperature of minus 196 degrees Celsius, the blood has revived a female patient known by the pseudonym "Chen Ling".
Chen, 37, was diagnosed with myeloproliferative disorder, meaning her body lost the ability to generate blood, which could easily lead to leukemia. Hospitalized in Wuhan of Hubei province, blood transfusions kept Chen alive. Then, in March, her condition worsened as she was struck with a serious lung infection.
As Chen's search for matching hematopoietic stem cell transplantation (HSCT) drifted in vain, the pack of umbilical cord blood saved the day. After unfruitful searches in Shanghai and Guangzhou, there was good news from Chengdu. The 11-year-old frozen pack of umbilical cord blood was transfused into Chen's body on April 18. After seven weeks of rehabilitation, she is finally healthy.
"I'm really thankful to the unknown mother from Chengdu. Her good deed back then saved my life," Chen said.
As long as umbilical cord blood does not enter a repetitive process of freezing and unfreezing, its shelf life is unlimited, said Wang Ruifeng, a researcher from Sichuan. "Theoretically, after hundreds of years in storage, it can still be activated and put to use."