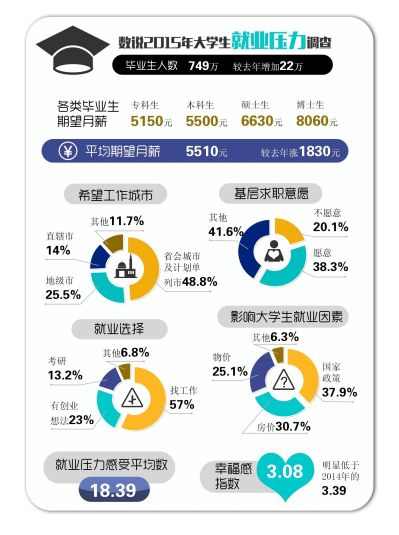 This graphic shows Chinese graduates' monthly salary expectations. (Graphics by Beijing Times)
(ECNS) -- China's graduates face more employment pressure and expect an average monthly salary of 5510 yuan ($889), significantly more than in 2014, according to Beijing Times on Friday.
About 48.8 percent of graduates prefer to work in second-tier cities, while 14 percent want to start their careers in four province-level municipalities, namely Beijing, Shanghai, Tianjin and Chongqing, according to a report by the Beijing Youth Stress Management Service Center (BYSMSC).
In 2015, 7.49 million students will graduate, up from 7 million in 2014. Their expected 5510 yuan monthly salary also sees an increase of 1830 yuan from last year, the survey also found.
This year's graduates have a pressure index of 18.39, significantly higher than in 2014, when it was 16.91, according to the report. Their level of happiness has also dropped to 3.08 from last year's 3.39.
Graduates want more income as commodity prices and general salaries rise, said Xiong Hanzhong, the director of BYSMSC. However, the excessive increase in expected salaries will indirectly increase pressure on graduates.
The report also suggests the more complex a graduate's degree is, the more money they want.
On completing their degrees, 57 percent of graduates want to find a job, 23 percent consider pursuing an entrepreneurship, and another 13.2 percent choose to stay in school to pursue a master's degree.
The top three factors influencing a graduate's choice in career are: national policies (37.9 percent), real estate prices (30.7 percent) and commodity prices (25.1 percent).